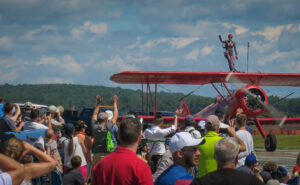 The 104th Fighter Wing at Barnes Air National Guard Base, Westfield, Massachusetts hosted the 2017 Westfield International Airshow. The airshow featured the United States Air Force (USAF) Thunderbirds and showcased many aircraft, in a combination of aerial and static displays. Beyond the USAF Thunderbirds, performers included the US Army Black Daggers Parachute Team, Geico Skytypers, Third Strike Wing Walking, and many historic and current military aircraft.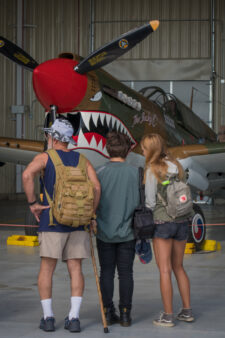 Aerobatic acts include Matt Chapman Aerobatics, Jason Flood Aerobatics, and Red Bull Air Race master class pilot Michael Goulian. The Westfield International Airshow and the 104th Fighter Wing's Open House marked both the 70th anniversary of the Air Force and the 104th Fighter Wing. The event took place on Saturday, August 12 and Sunday, August 13, 2017. In addition to the flying acts each day, show spectators enjoyed numerous food and drink concessions throughout the show.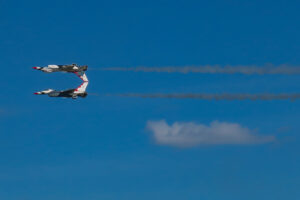 Parking donation of $10 went to various local charities, including the Boys & Girls Club, Kamp for Kids, The Carson Center, the USO, Westfield Youth Athletics, Military Family Readiness Group, the Westfield High School Music Program. The 104th Fighter Wing of the Massachusetts Air National Guard is an operational Fighter Wing with its assigned F-15C Eagle aircraft. In addition, the wing is on guard 24/7 with armed aircraft on Aerospace Control Alert (ACA) defending the northeast corner of the United States against air attack and stands ready to respond to any domestic emergency when called upon by the governor of the Commonwealth of Massachusetts.
Text Credit: westfieldairshow.org

FMG Feature Gallery of Westfield International Air Show



Westfield International Air Show


175 Falcon Drive


Westfield, Massachusetts 01085



N 42° 10′ 24.5″ W 72° 43′ 05.1″