If you are looking for an enjoyable self-guided day in nature while in the area of Central Florida, you have to check out Silver Springs State Park near Ocala, Florida.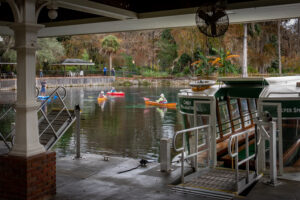 Florida's first tourist attraction created back in the 1870s, Silver Springs went through many hands over the past century. Including a carousel, trail rides, and several live animal exhibits, one of which featured monkeys. There is currently a wild population of Rhesus Macaques monkeys living in the area around the park, which can be spotted from time to time on the sides of the river. The attraction of Silver Springs was bought by the state of Florida in 1993 and was fully taken over by the Florida Parks and Recreation Department in 2013. A lot of the former rides disappeared after that point, but only so that the natural flora and fauna could become the main focus of the beautiful location.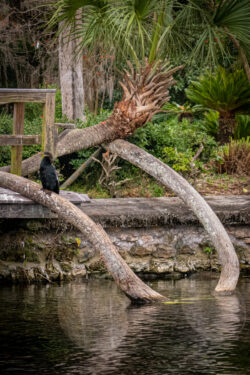 One of the few things that haven't changed over the years at Silver Springs, is the glass-bottom boat rides. Captain Rob, our tour guide and boat operator told us that the tradition began when a young entrepreneur took a canoe's bottom out, replaced it with glass, and started taking guests out on the river. The water coming out of the springs, which is where the park gets its name, is extraordinarily clear. Al and I actually spent a few minutes just staring at it when we arrived, well I was staring, he was snapping photos. That clarity allows for anyone staring down into the water to observe the ecosystem with ease, thus the popularity of the boat rides.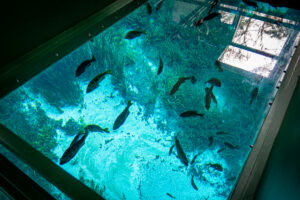 The thirty-minute glass-bottom boat tour of the springs is a great way to get introduced to the river's species, as well as hearing about the park's history that includes a lot of movie sets because the river is so clear that it lends itself to being a great spot to film underwater scenes. During our tour, we even managed to spot a manatee, which is not uncommon in the river. Unfortunately for Al, it was not feeling very photogenic.
Although the glass bottom boats are the park's most well-known attraction, if you enjoy camping, biking, hiking, kayaking, paddleboarding, or exploring, this state park has all of that too. Overall if we had more time, Al and I would have broken out the paddles to go down the Silver River, but perhaps that is an adventure for you to discover on your own.
About The Author: FMG's guest explorer/writer Noah K. Parent is a blogger and author originally from the Pioneer Valley of Western Massachusetts. He now spends his time traveling the United States, working in outdoor education and seeking stories of a simplified life. His current project is breakstasis.com, a blog about his nomadic lifestyle and growing beyond bad habits.

Silver Springs State Park


5656 Silver Springs Boulevard (SR 40)


Silver Springs, Florida 34488



N 29° 13′ 02.7″ W 82° 03′ 18.3″