By far this has to be my favorite train ride ever! The Durango & Silverton Narrow Gauge Railroad (D&SNG) is a 3 ft narrow-gauge heritage railroad that operates 45.2 miles of track between Durango and Silverton, Colorado along the Animas River.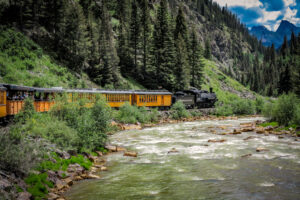 The route to Silverton is spectacular as it travels parallel to the Animas River and through the San Juan Mountains. The trip begins in Durango at 6,512 feet above sea level and climbs close to 2,800 feet in elevation as the train winds its way to Silverton along steep cliffs of the breathtaking "Highline" and into the valleys next to the Animas River.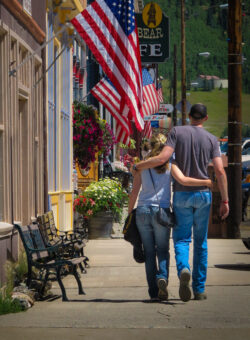 The line from Durango to Silverton has run continuously since 1881, although it is now a tourist and heritage line hauling passengers, and is one of the few places in America which has seen continuous use of steam locomotives. The round trip from Durango to Silverton is approximately 3 ½ hours each way with a stopover in Silverton of 2 hours to eat and explore the old silver mining town that is now a remote tourist destination. Silverson is a popular area for off-road excursions in Jeeps or ATV/OHVs both of which can be rented in town. Silverton has quaint shops and restaurants that are fun for leisurely exploration. With two hours it is plenty of time to grab a meal and take a leisurely stroll and explore around town before the journey back to Durango. The Durango & Silverton Narrow Gauge Railroad offers a number of different train trips and riding classes from the Victorian splendor of the Presidential Class in the Cinco Animas car all the way to the Standard Class choice between seating in a vintage coach or open-air observation gondola.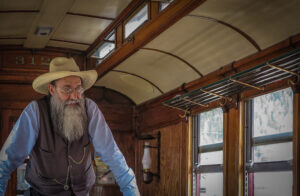 There are also other classes in between that offer various comfort and styles in their historic rail cars. If you have the opportunity, I suggest their Historic Narration Journey that provides an informative and entertaining train ride with character narrators dressed in period clothing portraying what life was like in the old days in the Durango and Silverton area. When back in Durango do not forget to stop into the D&SNG Museum located near the railroad's depot. The museum is free and it shares the fascinating history of railroading, transportation, and mining in the Durango area. There are even guided tours (for a small fee) of the behind-the-scenes operations of the D&SNG rail yard, machine shop, roundhouse, car shop, rolling stock, and museum.



Durango & Silverton Narrow Gauge Railroad


479 Main Avenue


Durango, Colorado 81301



N 37° 16′ 08.8″ W 107° 52′ 57.1″