Fallingwater ~ Have you ever been inspired or even a bit envious of someone else's home? If you have, then this is the home that should be on your must-see list. When I visited Fallingwater I thought it was going to just be a look at an extraordinary piece of architecture but the impression I walked away with was that of a home that 'love built'. It certainly is an extraordinary architectural achievement and unique in its' design. Considered by the Smithsonian as one of "Life List of 28 places to visit before you die". I agree that a visit to Fallingwater, a UNESCO World Heritage Site, is worthy of being part of my bucket list.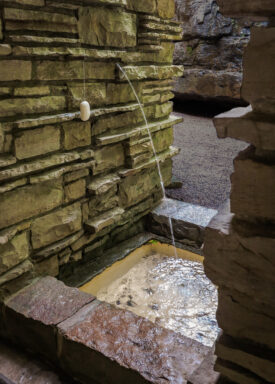 Fallingwater is located in Mill Run, Pennsylvania along the Bear Run tributary of the Youghiogheny River. The house is cantilevered over a waterfall along the Bear Run and is beautifully integrated into its' natural surroundings. The house was designed as a weekend home for the family of Liliane Kaufmann and her husband, Edgar J. Kaufmann Sr., owner of Pittsburgh based Kaufmann's Department Stores; which were later acquired by Macy's. Fallingwater was designed by American architect Frank Lloyd Wright in 1935 and was completed in 1938 with an additional guesthouse, garage, and servants' quarters completed the following year. Fallingwater is considered one of Wright's greatest masterpieces both for its integration with its natural surroundings and the interpenetration of exterior and interior spaces with a strong emphasis on harmony between man and nature. Wright described his approach to Fallingwater's design as organic architecture.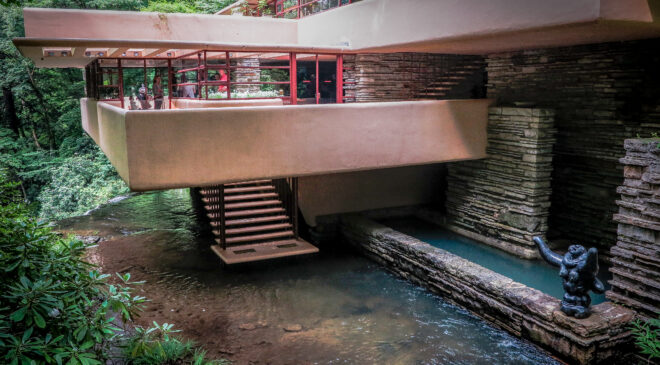 A visit to Fallingwater begins at the visitor center located a leisurely walk away from Fallingwater. Tickets may be purchased at the visitor center for the Guided House Tour; the only way to see the interior of Fallingwater. It is a fascinating tour with much information and anecdotes about the Kaufmann family and Frank Lloyd Wright. Within the visitor center, there are bathrooms, ticket sales, small gift shop, and the convenient Fallingwater Café for a bite to eat. Fallingwater is entrusted to the Western Pennsylvania Conservancy which operates its' programs.

Fallingwater


1491 Mill Run Road


Mill Run, PA 15464



N 39º 54′ 22.4″ W 79º 28′ 04.1″