It was fitting that my first national park ever visited would be Yellowstone as it the first national park in the United States and in the world. My adventure getting to Yellowstone was part of a cross-country road trip that I was on the inbound leg of heading across South Dakota into Wyoming.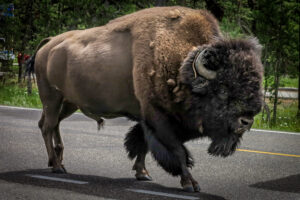 My first impressions of getting to the Yellowstone area happened farther east as I left Sheridan and Dayton Wyoming to make a substantial climb in elevation of over four thousand feet along Route 14 from Dayton to Burgess Junction, Wyoming. Coming from the Northeastern part of the United States an increase like that makes an impression and a bit of white-knuckled driving as that was the first time I had ever been on a public road over 8,000 feet. My only experience in driving anywhere close to that was on the isolated Mount Washington Auto Road in New Hampshire which peaks out at a bit over 6,000 feet. So the elevation got my attention and added to the adventure getting to Yellowstone. As I learned when I got closer to the national park was that it sits on the Yellowstone Plateau, at an average elevation of 8,000 feet which makes for cooler temperatures in July.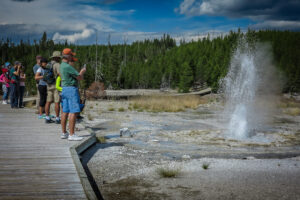 That was a nice treat as I had come from hot summer temperatures back in the Badlands of South Dakota. As I passed through Cody and Wapiti, Wyoming I needed to make a stop for lunch before pulling into the east entrance of Yellowstone. I found a nice meal and a bit of history at Pahaska Tepee Resort and Resturant on Route 14 heading into the park. Apparently, Pahaska Tepee's original lodge was built by "Buffalo Bill" Cody at the turn of the century. Buffalo Bill frequented the area on hunting trips in the 1880s. Once leaving Pahaska Tepee it was a short drive to the east entrance and into Yellowstone National Park. However, the drive from the park entrance to Grant Village Campground where I was staying was quite the drive as it traveled through the park's eastern forest and around the north end of the massive Yellowstone Lake to the portion of the lake know as West Thumb which is where Thumb Geyser and nearby Grant Village are located.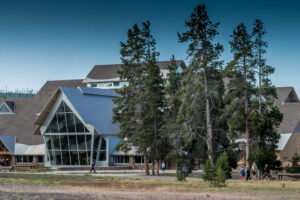 What is striking as you come into the eastern portion of Yellowstone National Park is that the forest appears thin and with hardly any undergrowth. I was later to learn that the forest that surrounded the north part of Yellowstone Lake had had forest fires during the late 1980s and have had subsequent fires at various points up through 2018. Before going to Yellowstone I knew very little about it other than common knowledge of the Old Faithful Geyser and the geothermal activity. I was certainly not aware that Yellowstone National Park has the enormous Lake Yellowstone which is the largest freshwater lake above 7,000 ft in North America. Lake Yellowstone is a favorite place for fishing and it also provides a great body of water for recreational boating such as sailboats, canoes, kayaks, and even motorboats although I did not notice much boating activity while I was there.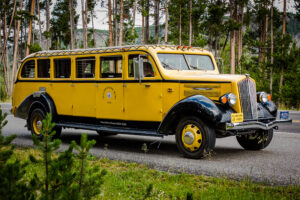 While I was at Yellowstone National Park I stayed at Grant Village Campground for about a week which was a pleasant camping experience as I was doing car camping with limited gear. The campground was well-maintained and each site had a steal bear box to store all your food, cooking gear, and any other items that may have an odor that would attract animals especially bears. The bear boxes are there obviously for your protection as well as the bears. It is important that the bears do not find their food sources around humans as that poses a threat to both the bears and park visitors. While in Yellowstone I noticed that the park encompasses a vast area and driving any place within the park takes time and patience as the roads often have summertime tourist traffic and also animals that use the roadways to get from place to place themselves. There are often traffic jams caused by bison that will hold up traffic while they pass from side to side or walk down the road for a distance before disappearing into the woods.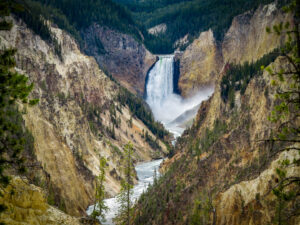 However, you will often see Park Rangers or Park Police present along the road to assist with traffic or to have people stopping indiscriminately along the road to look at animals move along. The other thing that causes some slowdown along the roads is the amount of road construction and repair throughout the park. While this may be an irritant to a lot of people on vacation trying to get from place to place within Yellowstone, I was quite impressed with the amount of work that the National Park Service was doing on the infrastructure of the park. As an American, I was quite proud of the level of care that was given to Yellowstone's facilities, roads, and infrastructure to accommodate the over 4 million visitors per year. Visiting Yellowstone I was able to explore a number of its attractions such as the geothermal activity of the Upper Geyser Basin and Old Faithful Geyser, Mammoth Hot Springs, Norris Geyser Basin, Lower Geyser Basin and the spectacular waterfalls of the Grand Canyon of the Yellowstone.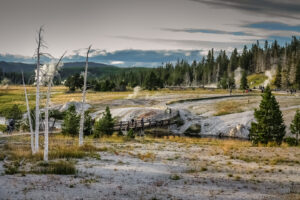 Of course, there is so much more to see and experience that I could not possibly do in just a week. A return to Yellowstone is definitely on my bucket to explore more and I would love to see Yellowstone at different times of the year especially during the winter to experience this National Park during all seasons. I would recommend any visit to Yellowstone starting with a stop at the Old Faithful Visitors and Education Center As it gives a wonderful overview of Yellowstone National Park and its geothermal activity and history before embarking on looking at the different attractions within the park. There are also Ranger-guided tours that talk about the history, geothermal activity and, the flora and fauna of Yellowstone National Park. One of my favorite attractions because I am very interested in history and architecture was a stop at the Old Faithful Inn. The Old Faithful Inn is a large hotel located in Yellowstone National Park's Upper Geyser Basin, with a view of the Old Faithful Geyser.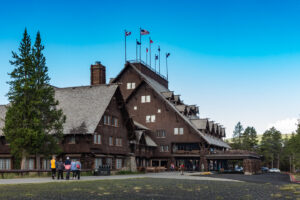 The Inn has a multi-story log lobby, flanked by long wings containing guest rooms. The inn is an example of rustic resort architecture, a style which is also known as National Park Service Rustic. It is one of the few log hotels still standing in the United States and was the first of the great park lodges of the American West. The Old Faithful Inn is a wonderful place to centralize your visit to the park as it offers accommodations as well as several places to dine especially its historic dining room. One thing that I found very enjoyable while I was at the inn was to be able to have an adult beverage and sit on the veranda away from the crowds to watch the next eruption of the Old Faithful Geyser. My visit to Yellowstone being my first national park was quite enjoyable and I would recommend to anyone that Yellowstone is a must-see destination.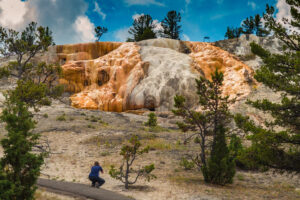 I suggest that doing some research before going to the Yellowstone would be beneficial as park is enormous and has so much to offer it can be overwhelming to get your bearings on which direction to go. Also, you need to be prepared with accommodations and a plan for meals as the resources for both are limited do to the number of people visiting as well as fact that the National Park does not have all of the resources that you would find in a local town. One thing to be very aware of is that there are very limited places that you can get fuel for your vehicle or an emergency repair within the park. I look forward to my return visit to Yellowstone National Park and I will plan for a more in-depth exploration of all that it has to offer.



FMG Feature Gallery of Yellowstone National Park



Yellowstone National Park


Park County, Wyoming


Teton County, Wyoming


Gallatin County, Montana


Park County, Montana


Fremont County, Idaho



N 44º 24′ 56.1″ W 110º 34′ 43.1″