Traveling through the idyllic farmland of southwestern Michigan you would not get the impression that an epicenter that houses one of the largest automotive collections in the world is right around the corner. Nestled on 90 acres on a campus that is so caringly placed on what first appears to be a gentleman's farm, you will quickly find yourself discovering an automotive enthusiast's nirvana. The Gilmore Car Museum is not just a single museum but a cooperative destination that houses six partner museums containing North America's largest auto collection with over 400 vehicles on display and over 190,000 square feet of exhibit space. The museum's collection is housed in a recreated factory building from the turn of the century and within a campus of several historic buildings, which include eight restored 19th-century barns, an authentic operating 1940s diner, a recreated 1930s Shell gas station, and a train depot from the 1890s.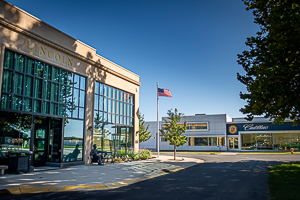 Recreated auto dealerships include a Franklin dealership from around 1918, a Model A Ford dealership from 1928, a 1930s Lincoln, and a 1948 Cadillac dealership in their own buildings. Two elements that caught my attention while visiting the Gilmore Car Museum were first the respect given to visitors to allow them to get up close to the vehicles; you will not find velvet ropes, stanchions, or barriers surrounding the vehicles. You are allowed to get up close and in many cases, if windows are down on the vehicles, are able to stick your head into the interior and look around. I found that quite unusual for an automotive museum but also saw that visitors returned the same respect for the vehicles that in many cases are one of a kind examples and priceless. The other was the quality of the collection with the majority of the vehicles being in like-new condition and presented in the finest themed displays that rival any top museums of any kind in the United States.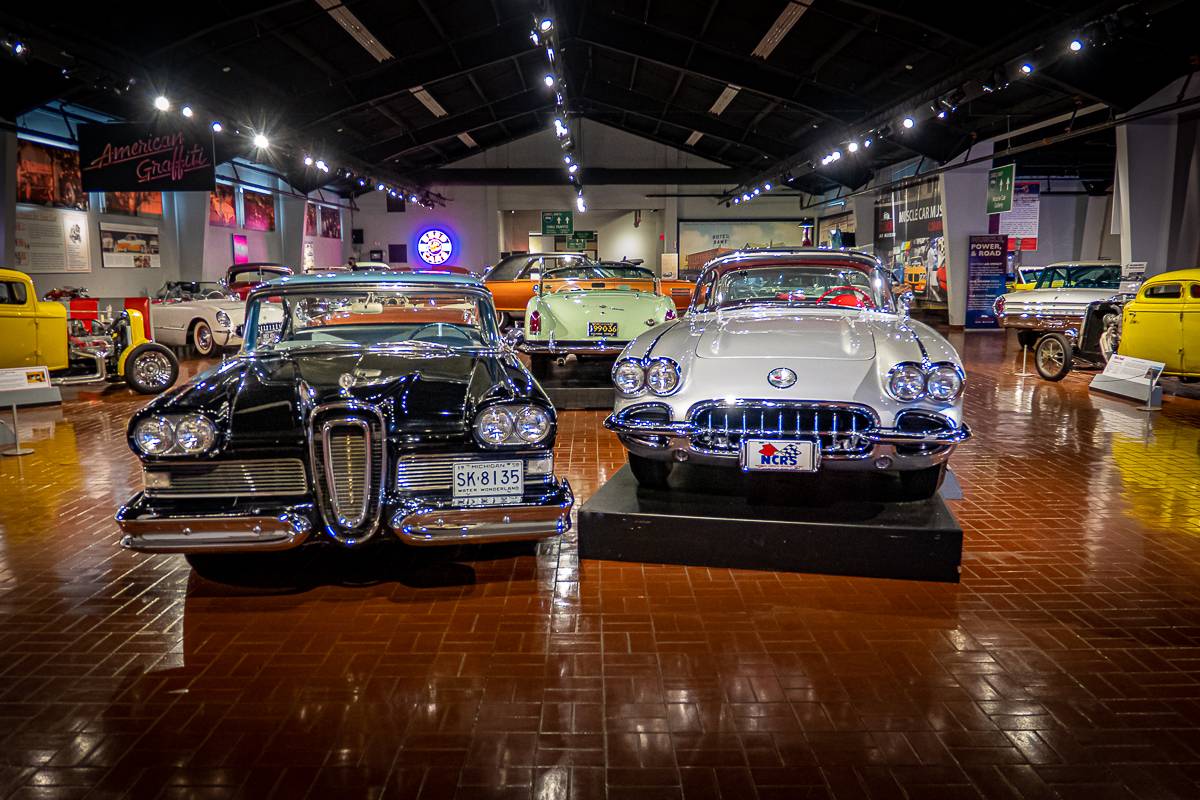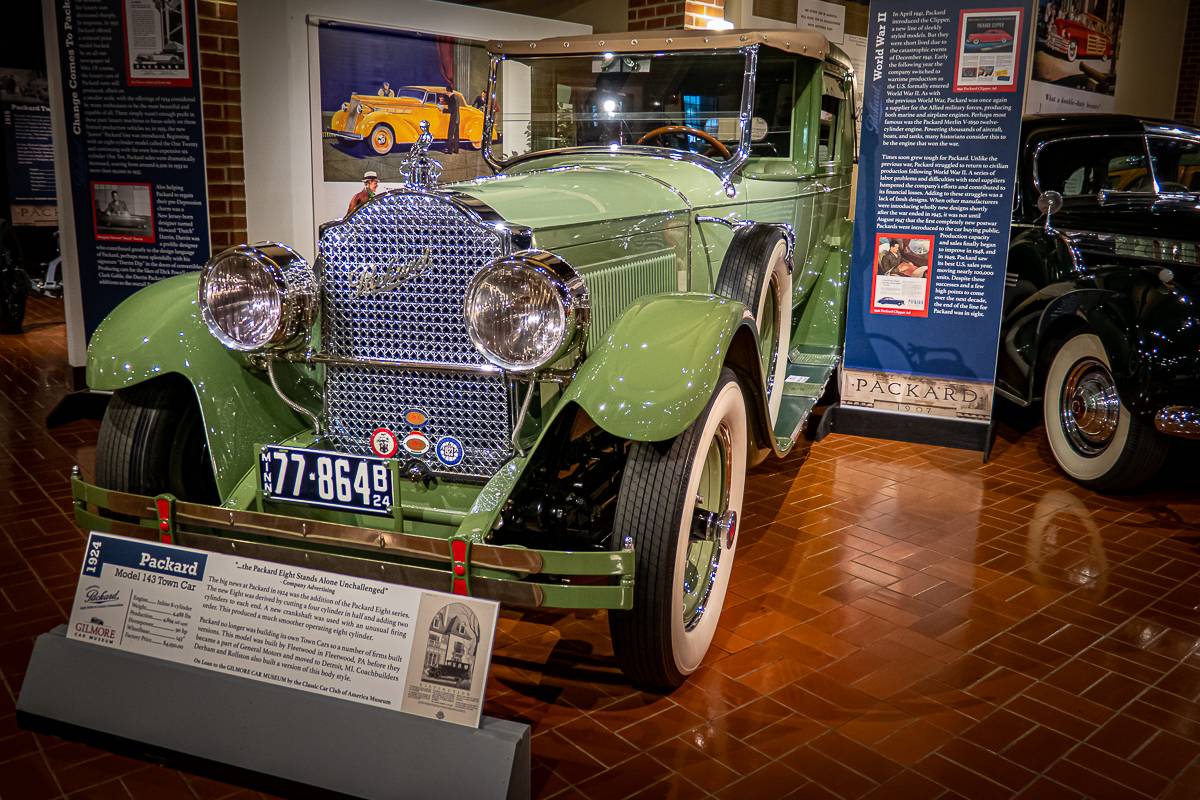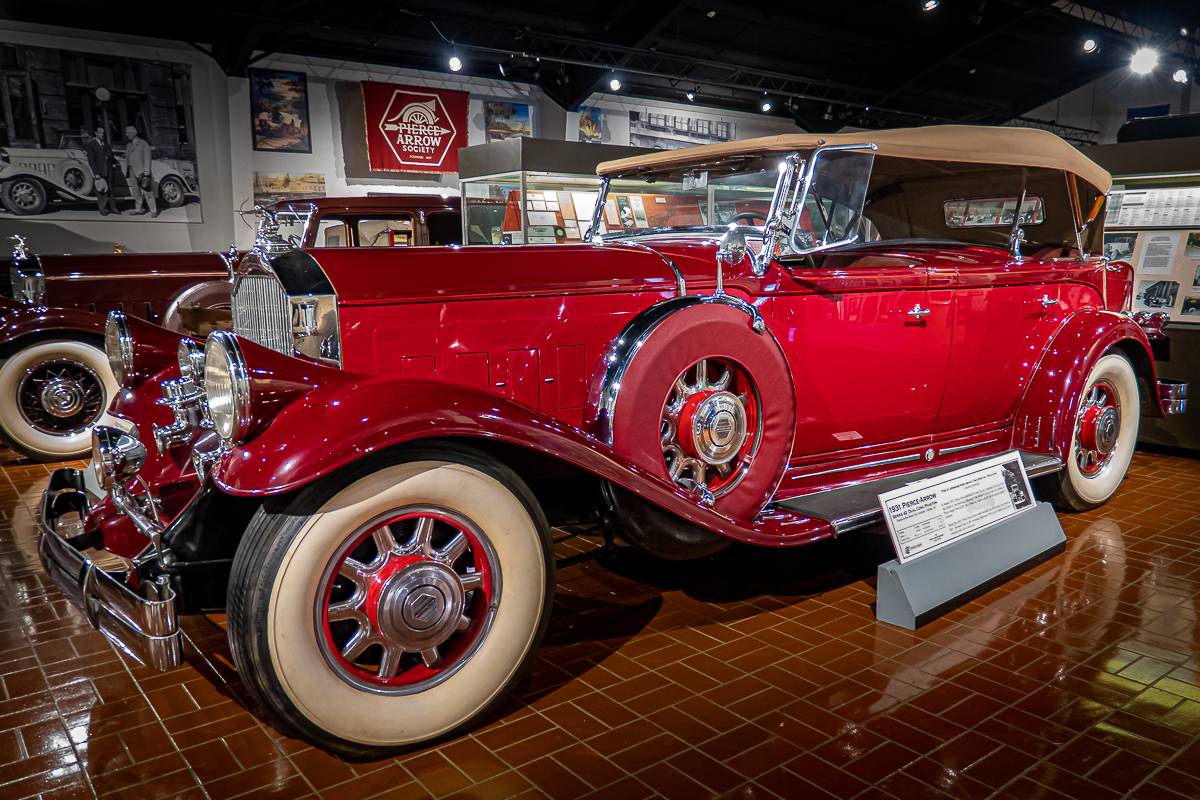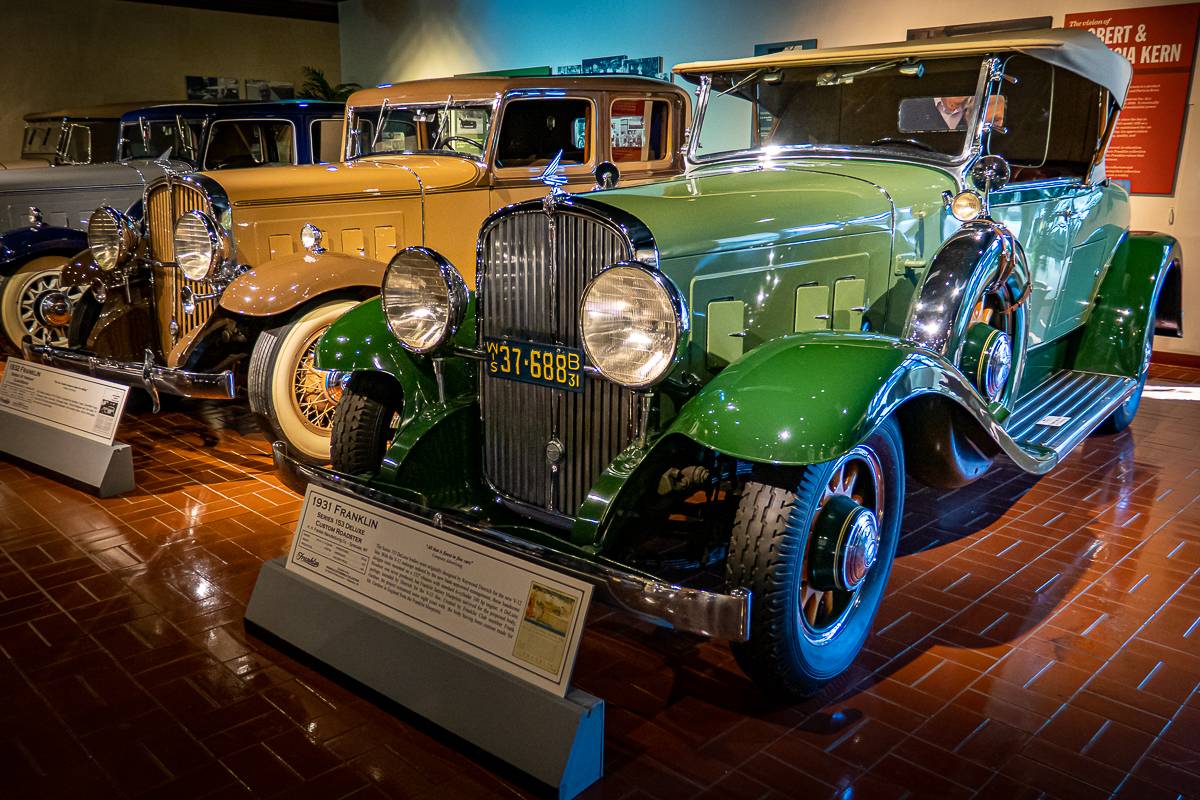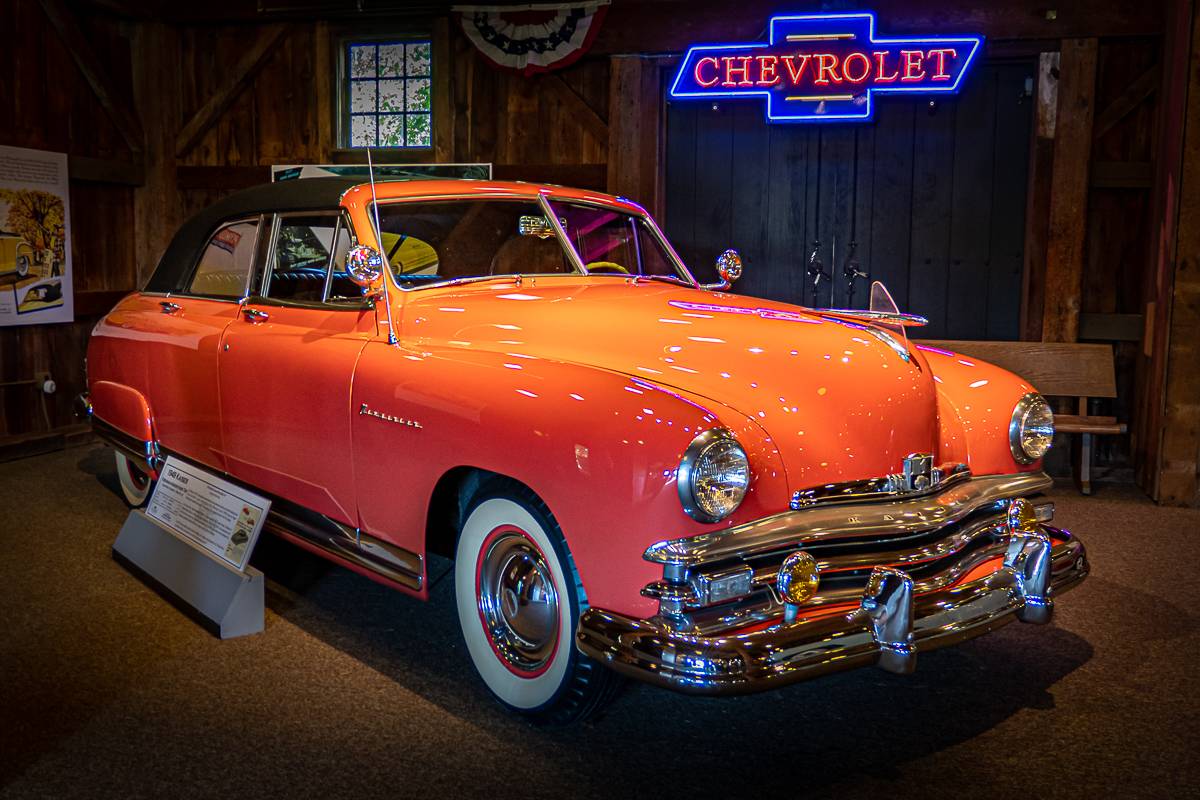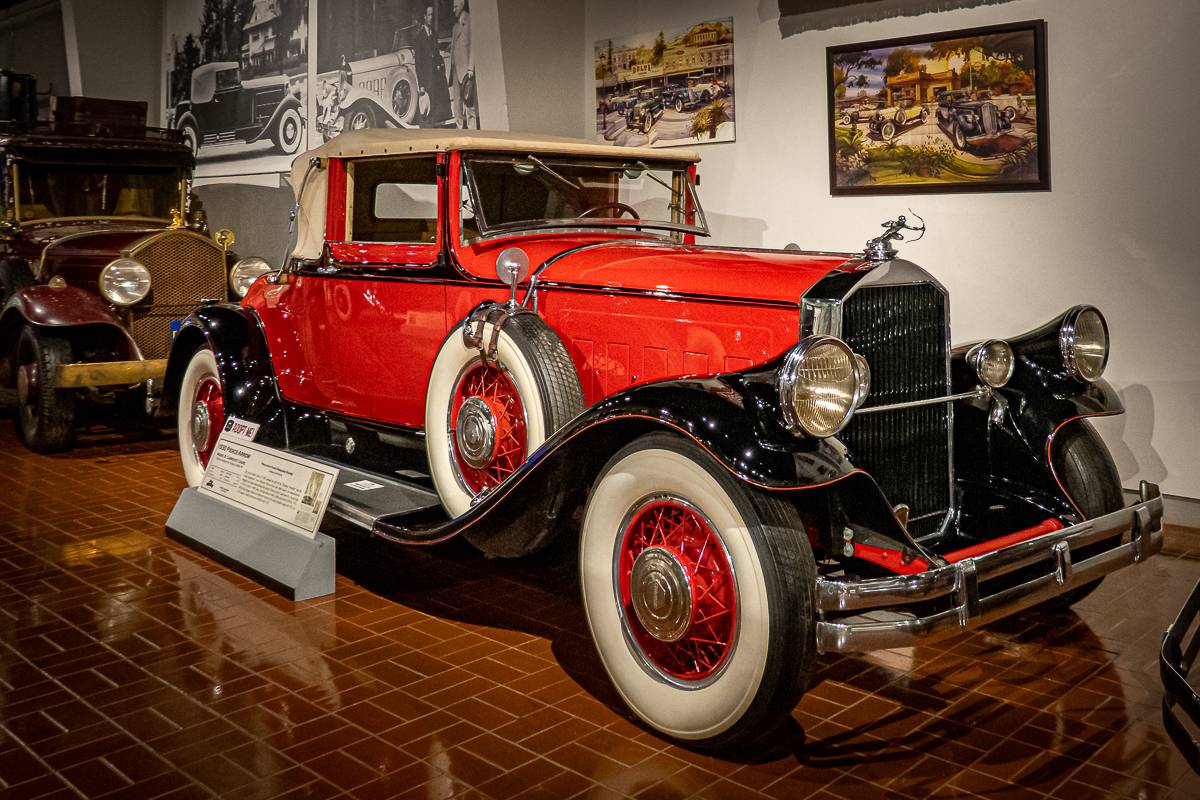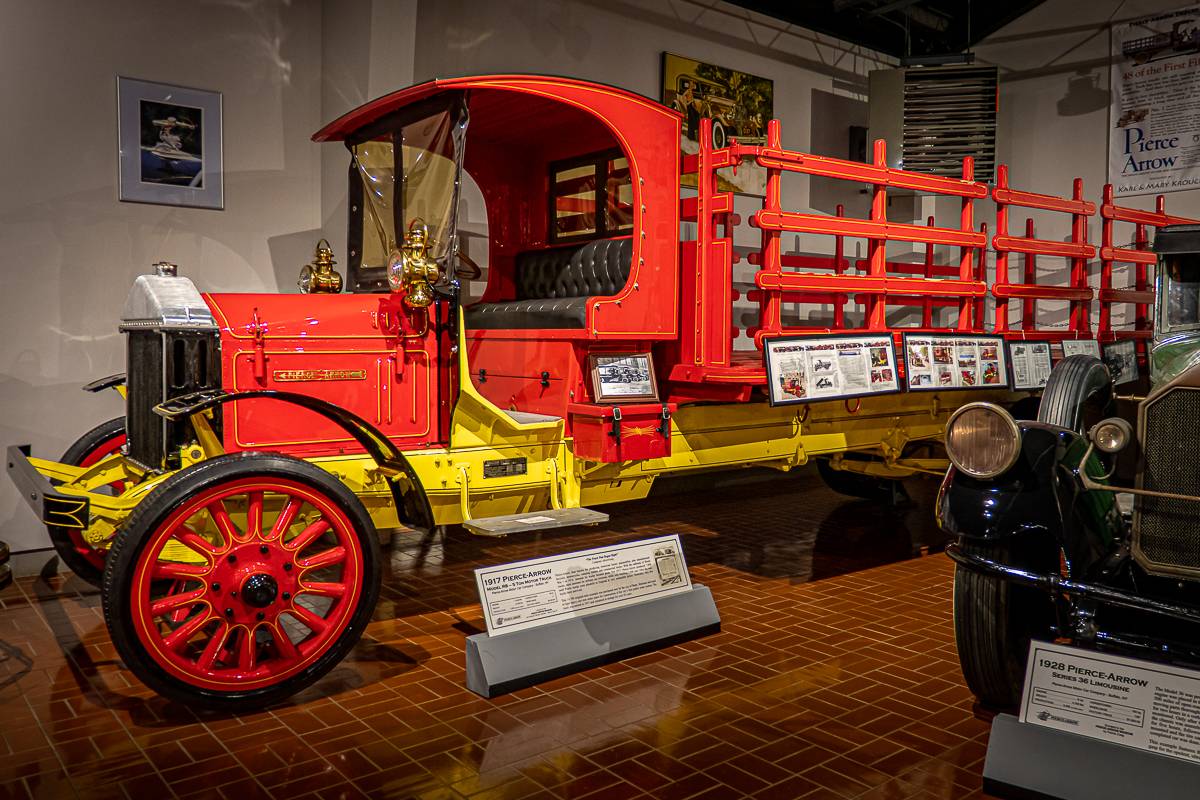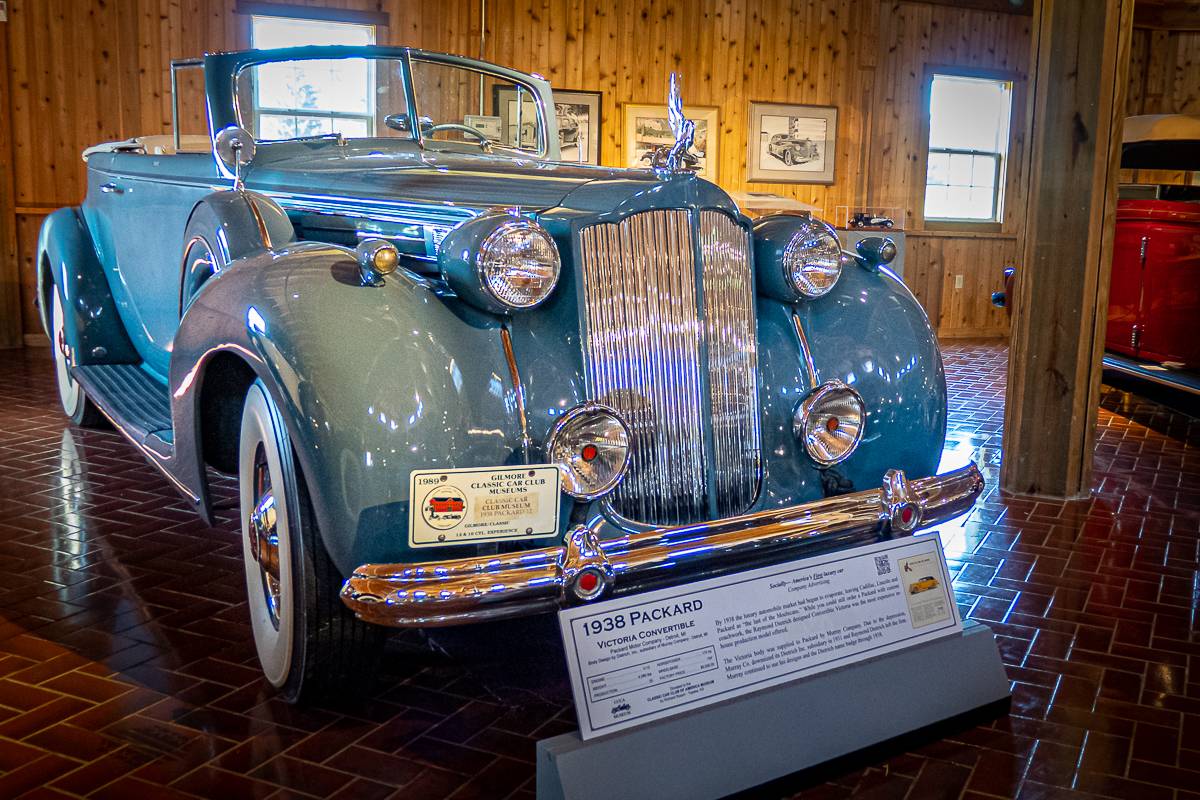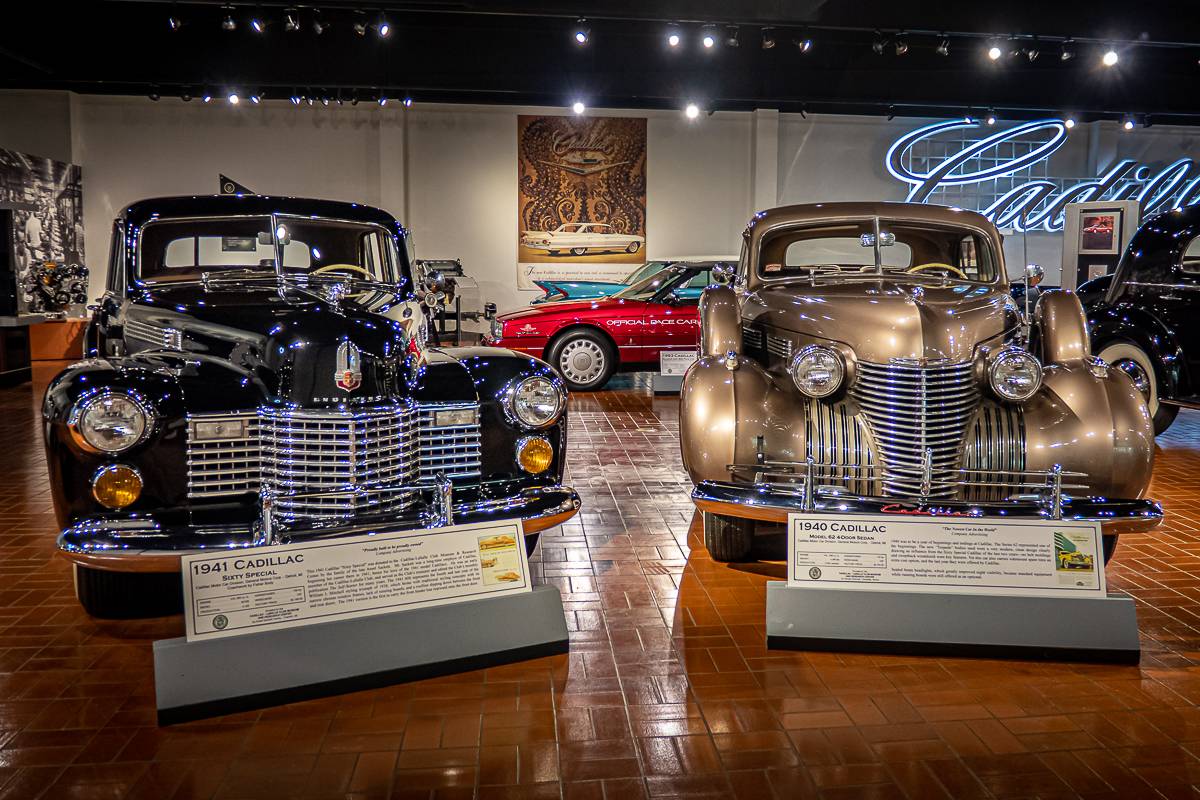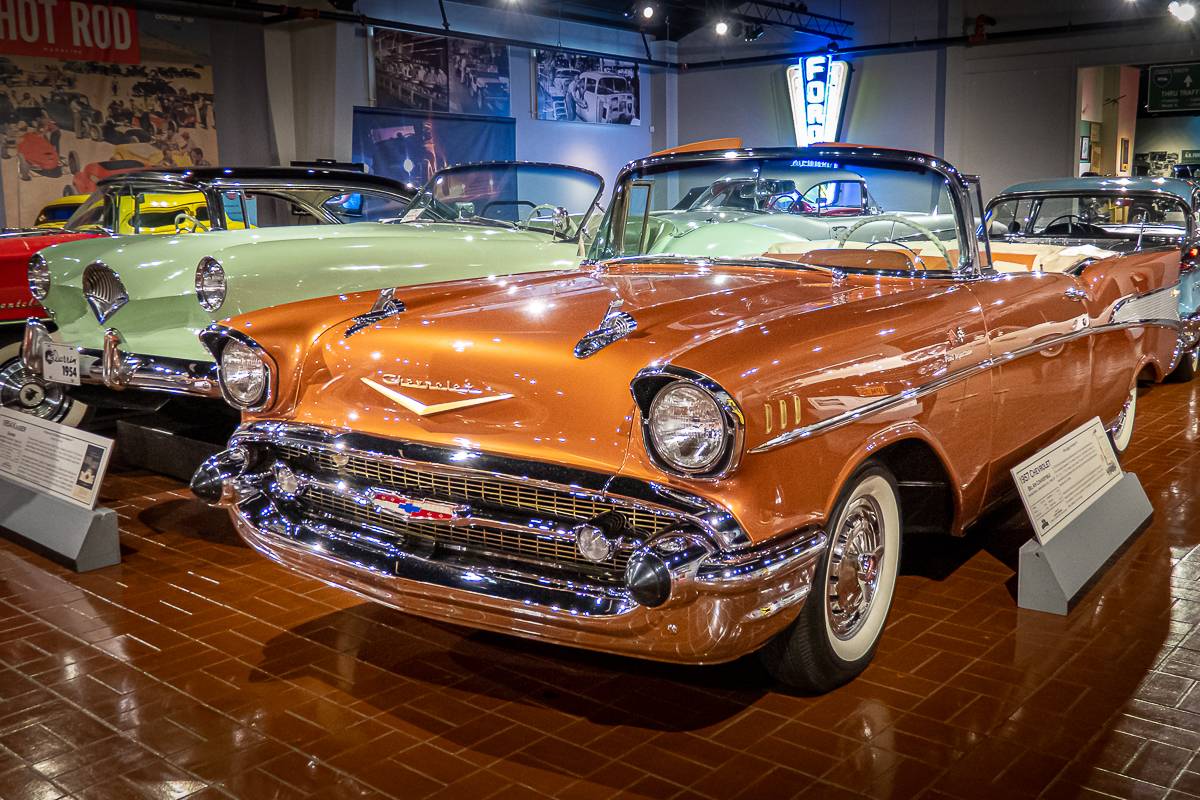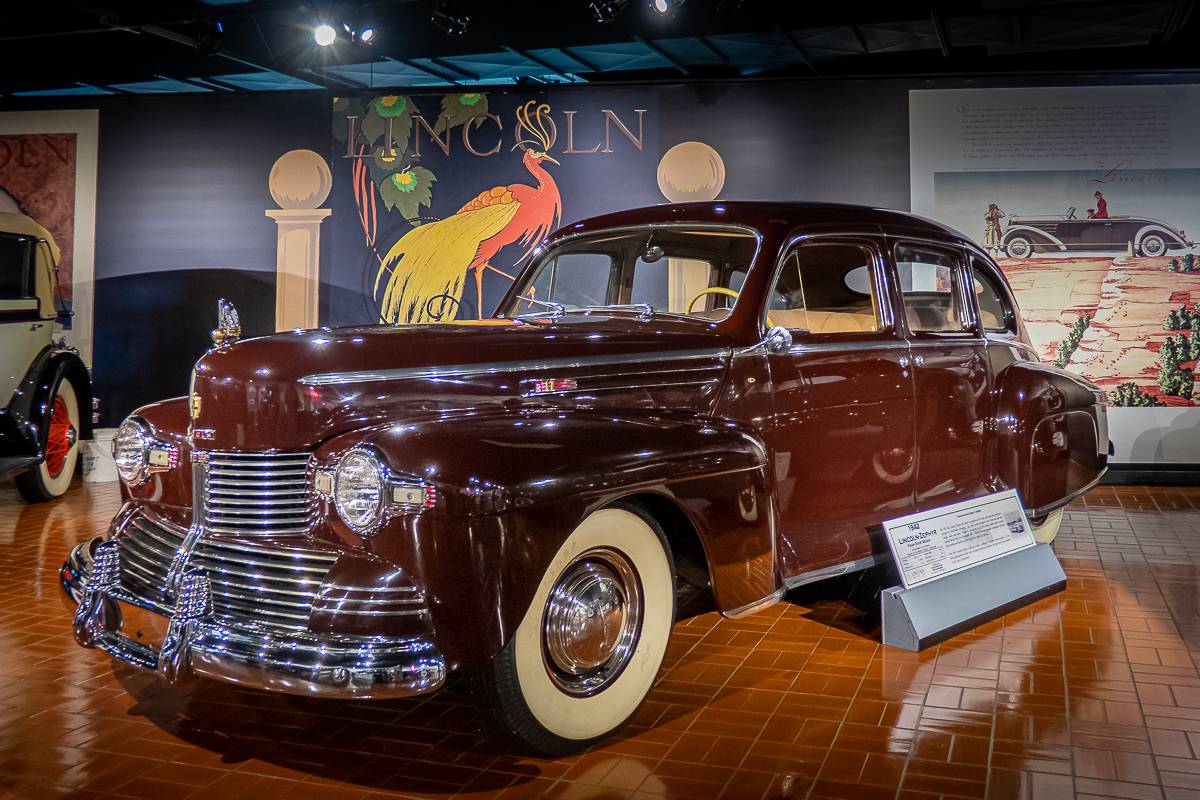 1958 Edsel Pacer, 1959 Chevrolet Corvette
1924 Packard Model 143 Town Car
1931 Pierce-Arrow Series 42 Dual Cowl Phaeton
1931 Franklin Series 153 Deluxe Custom Roadster
1949 Kaiser Virginian 4-Door Hard Top
1930 Pierce-Arrow Model B Cabrolet Coupe
1917 Pierce-Arrow Model R8 - 5 Ton Motor Truck
1938 Packard Victoria Convertible
1941 Cadillac Sixty Special, 1940 Cadillac Model 62 4-Door Sedan
1953 Chevrolet Bel Air Convertible
1942 Lincoln-Zephyr 4-Door Sedan











The Gilmore Car Museum holds a combined collection of over 500 vehicles, over 100 vintage pedal cars, one of the largest displays with more than 1,500 items of automotive mascots and name badges in North America, Recreated auto dealerships, George & Sally's Blue Moon Diner, an authentic 1941 diner, and an Antique Shell Gas Station. The selection of vehicles and exhibits was too abundant to present in this article but you can explore further with numerous captioned images that cover more of the museum in this Feature Gallery of Gilmore Car Museum.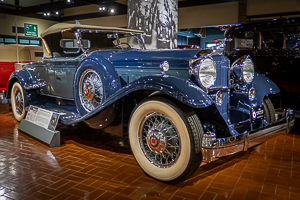 What a gem to be located in tiny but beautiful Hickory Corners, Michigan. Even if you are not an automotive aficionado but love history, style, design, and a large slice of Americana, you will surely enjoy strolling the campus and immersing yourself in America's transportation heritage. As mentioned before the Gilmore Car Museum is not a single entity but a partnership of six museums on one campus comprised of the Classic Car Club of America Museum, Pierce-Arrow Foundation Museum, Model A Ford Museum, Lincoln Motor Car Heritage Museum, Cadillac-LaSalle Club Museum, and Museum of the Horseless Carriage. Each collection presented with the highest standards and themed to the era the vehicles represent down to the music that is sure to elicit feelings of bygone eras. The Gilmore Car Museum holds many events throughout the year and I was delighted that my visit was on a weekend that they were hosting a convergence of Airstream travel trailers boondocking on their campus. It was just by coincidence that I showed up with my Airstream the American Zephyr and was kindly included in their museum tour; a double treat for me. The Gilmore Car Museum for sure should be on any traveler's bucket list of must-see destinations in America. It is sure to impress and has something for everyone in the family to explore and enjoy.
A recreated 1930s Shell gas station is part of the historic buildings on the museum's campus and it comes complete with a vintage station interior and a 1937 Diamond T Shell Tanker Truck.

 

1962 Chevrolet Biscayne 409/409, 1967 Pontiac GTO part of the Gilmore's Muscle Car exhibit.

George & Sally's Blue Moon Diner a restored and fully-functioning 1941 Silk City Diner is a great place to enjoy a snack or meal on the Gilmore Car Museum's campus.

FMG Feature Gallery of Gilmore Car Museum



Gilmore Car Museum


6865 W. Hickory Road
      Hickory Corners, Michigan 49060



N 42°26'25.0″ W 85°25'09.3″