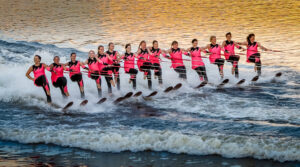 Near my hometown in Western Massachusetts, there is a unique geographic loop along the Connecticut River called the Oxbow located in Northampton, Massachusetts. It is famous for its appearance in the 1836 painting The Oxbow by Thomas Cole. Historically, the Oxbow was connected directly to the Connecticut River as a large U-shaped bend. In the early 1900s, the Oxbow was used extensively for logging operations, as a holding area for logs sent downriver.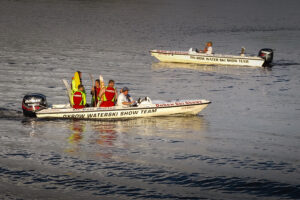 Today the Oxbow is used primarily for pleasure boating and is home to one of the largest marinas on the Connecticut River in Massachusetts. Other uses include flatwater paddling and fishing. The Oxbow is home to a unique activity and group in Massachusetts the Oxbow Water Ski Show Team. Staring in June and running through most of the summer the Oxbow Water Ski Show Team holds Friday Night Exhibition Shows to practice and raises funds through donations to compete in the annual National Show Ski Association Eastern Regionals.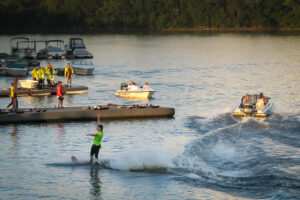 In 2019 the Oxbow Water Ski Show Team won the 2019 NSSA Eastern Regional Show Ski Championships on their home water within the Oxbow in Northampton, Massachusetts. The team's skiing abilities include Barefooting, Swivel Skiing, Jumping, Trick Skiing, Ballet Line, Trios, Conventional and Strap Doubles and building pyramids on the water. The team includes their own boat drivers, costume seamstresses, announcers, choreographers and of course many skiers of all ages. Taking in one of their Friday evening shows is a unique family outing and certainly a hidden gem of Western Massachusetts.

Oxbow Water Ski Show Team


Old Springfield Road & Curtis Nook Road


Northampton, Massachusetts 01060



N 42° 17′ 44.2″ W 72° 38′ 13.4″