My trip to Yosemite Valley in Yosemite National Park began with about a 6-hour road trip from my brief stopover in San Francisco and Oakland California. I chose to take the scenic route heading east through Merced and Mariposa, California along long stretches of highway 99 and route 140 past ranch land and agricultural fields. Merced, California is the last major city before getting to Yosemite National Park and is known as the "Gateway to Yosemite". It is a good place to stop off along the road and pick up fuel and provisions before heading into Yosemite which is another two hours of driving.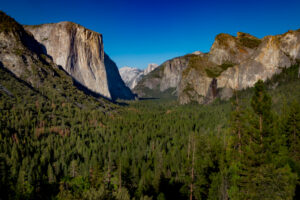 About an hour outside of Yosemite you will pass through a small community of Mariposa California which will give you a choice of two directions to take to enter Yosemite. The first being to the east along Highway 140 taking the Arch Rock Entrance and the El Portal Road into Yosemite Valley. In my case, I chose the other direction which is the South Entrance located along Highway 41 through the tiny town of Fish Camp. I took this route in order to make a brief stop in Fish Camp at the Yosemite Mountain Sugar Pine Railroad since I cannot resist a steam railroad especially one with Shay locomotives. What was surprising to me, was that once I was through the southern entrance of Yosemite that I still had another hour's drive to get to my final destination in Yosemite Valley.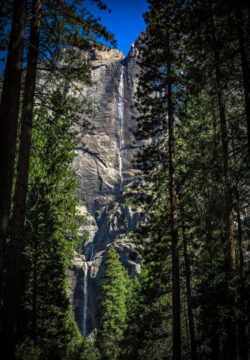 That drive, however, was spectacular along the Wawona Road that takes dramatic twists and turns and in some locations, the elevation and drop-offs on the roadside will take your breath away but are manageable if you follow the park speed limits. Just before entering the valley you will pass through Wawona Tunnel bored through a solid granite mountain on the south side of the Merced River. Immediately after emerging from the Wawona Tunnel (being careful of traffic and pedestrians) you will have an opportunity to pull over at the popular Tunnel View scenic viewpoint. You will get a great view of the valley from that vantage point with the iconic and expansive views of Yosemite Valley. Renowned artists and tourists alike have painted, drawn, and photographed the dramatic scenery from here. One of the most famous photographs made from that vantage point was done by photographer Ansel Adams who has long been associated with Yosemite National Park. If you are interested in Ansel Adams photography there is an Ansel Adams Gallery in the valley that you can visit to see his photography. It is also a shop that you can purchase original photographs, modern replicas, posters, books, and other related keepsakes. I am a big fan of Ansel Adams and his association with Yosemite National Park. You will find out some interesting history of Ansel's association with the park the gallery and even meeting his wife. If you have a chance the gallery presents walking tours about photography in Yosemite as well as about Ansel Adams himself.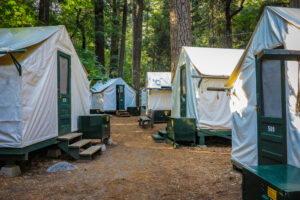 While in Yosemite National Park I stayed in Yosemite Valley at the Curry Village. Curry Village has been operating by park concessioners since 1899 and has some unique accommodations mainly that of tent cabins. The tent cabin was a fun way to stay in Yosemite providing me with a sense of what it might have been like for early visitors to Yosemite. The tents with their austere accommodations are a single room and as the name would suggest it has walls and a roof made of canvas tent material. The tent cabins contain either two single beds or a queen-size bed and have a small cabinet for personal items a screen door and outside of each cabin a bear box to hold food or any items that may attract bears as they are plentiful in Yosemite. There are bathroom/shower houses scattered throughout the tent cabin village. Curry Village also has a large dining hall-style restaurant with bar, swimming pool with bathhouse as well as an amphitheater hosting evening programs throughout the week.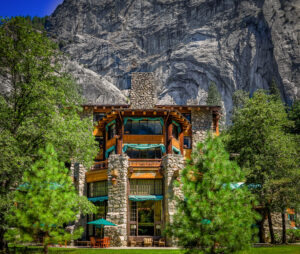 A pro tip for getting around Yosemite Valley as the traffic on the valley roads are congested during the peak season and can take quite a bit of time to get from place to place. I found that having a bicycle or renting a bike (there are rental options in the valley) was an ideal way to get around the major attractions of the valley. Also, there are other options for lodging accommodations in Yosemite other than Curry Village. There is everything from the five-star Ahwahnee Hotel to more traditional hotel accommodations at the Yosemite View Lodge or historic Wawona Hotel and of course various camping and RV options. While I was at Yosemite National Park the areas that I focused on were the attractions within Yosemite Valley as well as overlooking the valley from Glacier Point. Yosemite National Park is a mess and it has fantastic access to the backcountry as well as unique portions such as the Mariposa Grove of giant sequoias, Tuolumne Meadows along the Tioga Pass Road and, Hetch Hetchy in the northwestern part of the park.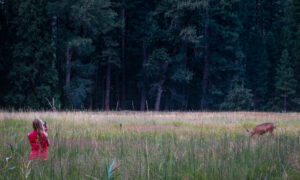 The Yosemite Valley itself is about 7.5 miles long and approximately 3000–3500 feet deep, surrounded by high granite summits such as Half Dome and El Capitan. The valley is bisected by the Merced River, and a number of streams and waterfalls flow into it. The most famous of the Valley's waterfalls are Yosemite and Bridalveil Falls. However, while I was at Yosemite the waterfall flow was much less than it would be during the peak times in the spring from snowmelt in the high country. I was able to get close to the base of Yosemite Falls which is the highest waterfall in the park at 2,425 feet from the top of the upper fall to the base of the lower fall. I also enjoy touring the numerous meadows and trails around the valley and enjoyed riding my bike up to Mirror Lake.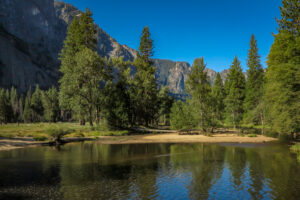 I did learn that you have to be very aware of your surroundings as wildlife is everywhere in the park. On my ride back to Curry Village from Mirror Lake a brown bear cub darted out in front of me which was startling in-itself but I was also very concerned that mama bear might be nearby; I did not stop to look around and find out. Because of my interest in history and architecture within the national parks, I stopped at the Ahwahnee Hotel which is considered the most upscale hotel in America's national parks to look around the lobby and public areas as well as the adjoining grounds. The Ahwahnee has a rustic elegance that was as inviting and comfortable as it was grand.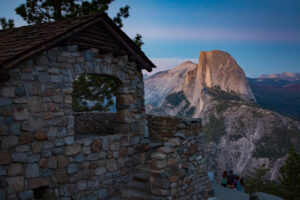 Another highlight of my trip was a visit to Glacier Point which is about an hour's drive out of the valley to get up to the point. Glacier Point is a viewpoint above Yosemite Valley and is located on the south wall of Yosemite Valley at an elevation of 7,214 feet which 3,200 feet above Curry Village. The point offers amazing views of several of Yosemite National Park's well-known landmarks, including Yosemite Valley, Yosemite Falls, Half Dome, Vernal Fall, Nevada Fall, and Clouds Rest. For the first time in my life the expression "having your breath taken away" became a reality for me with my first view of Half Dome on Glacier Point Road just before arriving at the point. That sight will be forever etched in my memory and be a joy of having experienced it. My words and pictures hardly do Yosemite any justice as an amazing natural wonder of the United States. Everyone should have an opportunity to visit and enjoy Yosemite National Park as it is a transcending personal experience.

FMG Feature Gallery of Yosemite National Park



Yosemite National Park


Tuolumne, Mariposa, Mono,


& Madera counties, California



N 37° 51′ 51.8″ W 119° 32′ 18.5″