Photo Opp ~ Watkins Glen State Park is the most famous of the Finger Lakes State Parks located in the village of Watkins Glen, south of Seneca Lake in New York's Finger Lakes region. It was opened to the public in 1863.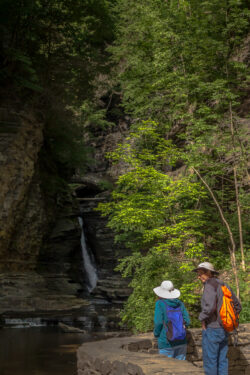 The park's lower portion and parking are near the village, while the upper part is open woodland. Within two miles, the glen's stream descends 400 feet past 200-foot cliffs, generating 19 waterfalls along its course. The centerpiece of the 778-acre park is a 400-foot-deep narrow gorge cut through rock by the Glen Creek. The gorge path winds over and under waterfalls and through the spray of Cavern Cascade. Rim trails overlook the gorge. Jacob's Ladder, near the upper entrance to the park, has 180 stone steps, part of the 832 total on the trails.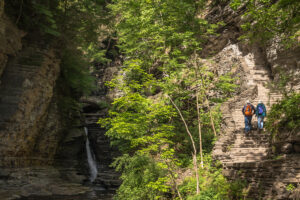 Campers and day-visitors can enjoy the Olympic-size pool, scheduled summer tours through the gorge, tent and trailer campsites, picnic facilities and excellent fishing in nearby Seneca Lake or Catherine Creek, which is renowned for its annual spring run of rainbow trout. In 2015, the park was chosen from more than 6,000 state parks across the nation as a nominee in the USA TODAY Readers' Choice Poll for Best State Park in the United States, and won third place!
Text Credit: New York State Parks, Recreation and Historic Preservation & Wikipedia

Watkins Glen State Park


1009 N Franklin Street


Watkins Glen, New York 14891



N 42° 22′ 33.7″ W 76° 52′ 16.3″