Museum Quick Stop ~ I have been to Washington, D.C. a number of times over the years with my family, my Boy Scouts and on my own. This time was a solo excersion to explore D.C.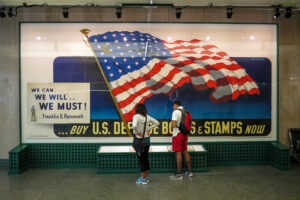 With each trip, time was limited and I needed to focus on a few stops rather than trying to do too much running around D.C. which has an enormous amount of history and sights to see. I did, however, took advantage this time being on my own to use my bike to get around. The bike made it much easier to get from place-to-place especially on the National Mall which is a very long walk to get to attractions. The Smithsonian Institution known simply as the Smithsonian is a group of museums and research centers administered by the Government of the United States. Founded in 1846, the institution is named after its founding donor, British scientist James Smithson. The Smithsonian's 19 museums, 21 libraries, nine research centers, and zoo include historical and architectural landmarks, mostly located in Washington, D.C. Admission to the Smithsonian museums are free of charge.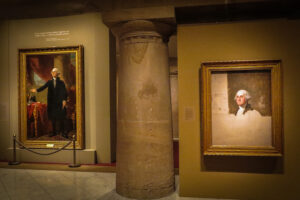 National Portrait Gallery
The National Portrait Gallery is a historic art museum located in Washington, D.C. which opened to the public in 1968. Part of the Smithsonian Institution, its collections focus on images of famous Americans presenting people of remarkable character and achievement. These Americans—artists, politicians, scientists, inventors, activists, and performers—form our national identity. The museum is housed in the historic Old Patent Office Building, as is the Smithsonian American Art Museum.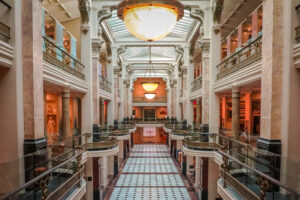 Smithsonian American Art Museum
The Smithsonian American Art Museum, commonly known as SAAM is part of the Smithsonian Institution. Together with its branch museum, the Renwick Gallery, SAAM holds one of the world's largest and most inclusive collections of American art, from the colonial period to the present. The museum has more than 7,000 artists represented in the collection. Located within the old Patent Office Building shared with the National Portrait Gallery.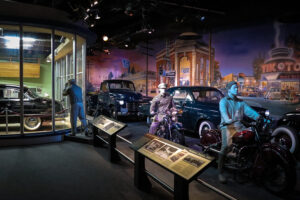 National Museum of American History
The National Museum of American History collects, preserves, and displays the heritage of the United States in the areas of social, political, cultural, scientific, and military history. Among the items on display is the original Star-Spangled Banner, Abraham Lincoln's top hat; first artificial heart; Dizzy Gillespie's angled trumpet; Dorothy's ruby slippers from The Wizard of Oz. The National Museum of American History's artifacts form a fascinating mosaic of American life and comprise the greatest single collection of American history in the world. The museum is part of the Smithsonian Institution and located on the National Mall in Washington, D.C.



National Portrait Gallery


F St NW &, 8th St NW


Washington, DC 20004



Smithsonian American Art Museum


F St NW &, 8th St NW


Washington, DC 20004



N 38° 53′ 52.4″ W 77° 01′ 22.4″

National Museum of American History


Constitution Avenue, NW


Between 12th and 14th Streets


Washington, DC 20004



N 38° 53′ 28.7″ W 77° 01′ 48.0″