Photo Opp ~ The Railroad Museum of Pennsylvania is in Strasburg, Lancaster County, Pennsylvania.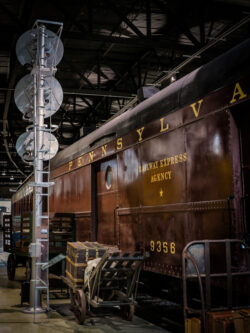 The museum is located on the east side of Strasburg along Pennsylvania Route 741. It is administered by the Pennsylvania Historical and Museum Commission with the active support of the Friends of the Railroad Museum of Pennsylvania. The museum's collection has more than 100 historic locomotives and railroad cars that chronicle American railroad history. Visitors can climb aboard various locomotives and cars, inspect a 62-ton locomotive from underneath, view restoration activities via closed-circuit television, enjoy interactive educational programs, and more. The Railroad Museum of Pennsylvania was created to provide a historical account of railroading in Pennsylvania by preserving rolling stock, artifacts, and archives of railroad companies of the Commonwealth.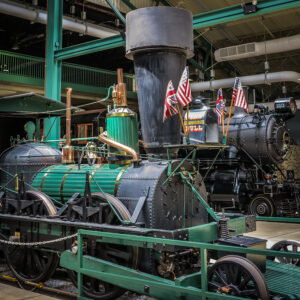 However, the museum has branched out over the years, acquiring some pieces that are not directly related to Pennsylvania but are important to the history of railroading. Today, the Railroad Museum of Pennsylvania covers 18 acres. This includes Rolling Stock Hall, a second-floor changing-exhibit gallery, an observation bridge, a hands-on education center called Stewart Junction, an extensive library and archives, a restoration and paint shop, and an outdoor storage and display yard. Rolling Stock Hall and the second floor are both handicapped accessible. The yard is subject to weather closure.
Text Credit: Wikipedia

Railroad Museum of Pennsylvania


300 Gap Road, PA Route 741


Strasburg, Pennsylvania 17579



N 39° 58′ 57″ W 76° 9′ 37″