Living History at Mystic Seaport Museum ~ Sharing this museum with you is like talking about an old family friend, which it is. If there were a singular place that is the keystone to the beginnings of my love of road trips and exploring it would be Mystic Seaport Museum. About two hours from my hometown, Mystic Seaport Museum is the nation's leading maritime museum and a dynamic destination to explore America's nautical history. The museum is located in Mystic, Connecticut along New England's vast coastline adjacent to the quaint seacoast village of Mystic. The museum itself depicts a seafaring village set in the 1800s among its' 19 acres along the Mystic River.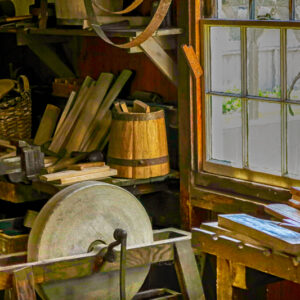 This museum has been a part of my life dating back to my single days in my twenties and was a favorite place to take a date for an interesting day trip excursion. It became much more to me and my family as it was integral in the courtship of my late wife and our first day of marriage along with numerous visits over the years with our children, cousins and in-law relations. We were so fond of Mystic Seaport, it was the one museum that we have had an annual membership for many years. What I have enjoyed the most about the Seaport is that it has felt like an extension of our home and a part of our family history. Although it has an extensive collection of exhibits, historic buildings, vessels, and a working shipyard, it is its' setting around a village green with fantastic views along the Mystic River that makes you feel like you have stepped back to simpler times when life took on a slower pace.

Fun For The Whole Family, Even Fido
This museum has so much to offer that it truly is a destination that can be explored in multiple visits or a fully packed day trip. There are exhibits, vessels, and activities that will engage people of all ages and is one of the most family-friendly museums I have ever been too. It is truly hands-on experience for those with young children at the Seaport with its' own Children's Museum, Discovery Barn, and opportunities to build a toy boat souvenir, climb aboard nautical themed playscapes, and play historic games on the village green. An if you are a dog owner, they are even welcome on the museum grounds. A pro tip if you bring your dog is that there are water bowls located several places throughout the museum grounds and that they have doggie treats at the information booth just inside the South Entrance.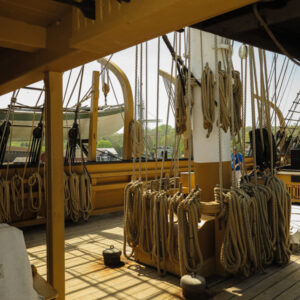 Ships, Lighthouse & Historic Craftsmen
There is much to see and do at Mystic Seaport but there are some must-see attractions that will immerse you in the historical seacoast life of a bygone era. The centerpiece of the museum is the Charles W. Morgan, the only surviving wooden sailing whaler. The C.W. Morgan was built in 1841 in New Bedford, Massachusetts and made 37 voyages in her 80 years of service. You can board the Morgan and explore the rigging, tools and shipboard accommodations that were part of life on whaling ships of the 19th and early 20th centuries. After extensive restoration, the Morgan a National Historic Landmark is even seaworthy and she sailed her 38th voyage on a tour of New England seaports and her home port of New Bedford, Massachusetts during the summer of 2014. The Seaport maintains an extensive collection of watercraft that are located along the docks and wharf of the museum with other vessels that can be boarded like the rigged sailing ship Joseph Conrad, fishing schooner L. A. Dunton, and you can even take a ride on the Sabino a small wooden, coal-fired steamboat which is also a National Historic Landmark. Among the 60 historic buildings that have been meticulously restored are workshops, commercial structures, and homes that would have been part of a 19th-century seafaring community. You can explore a shipsmith/blacksmith shop, chandlery, sail loft, ropewalk, seacoast lighthouse, cooperage, shipping agent's office, printing office, bank, and other buildings that would have kept a historic seaport operating. In a number of the building, there are engaging historic interpreters and craftspeople to share what life and craftsmanship were like in the 19th-century.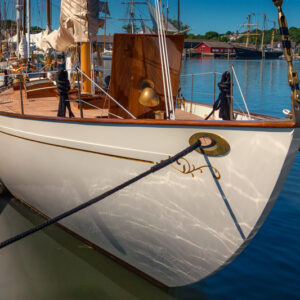 Special Events, Ship Preservation & Stars
There are many daily activities scheduled throughout the museum and are adjusted each season to keep visitors engaged and to provide for an interactive experience. There is no chance of being bored at the Seaport no matter what age you are. There are also a number of special events to enjoy scheduled throughout the year with many of them being annual events such as the Antique & Classic Boat Rendezvous, Sea Music Festival, Holiday Lantern Light Tours, WoodenBoat Show and, Moby-Dick Marathon. Mystic Seaport is not only a museum but it is also home to the nationally renowned Henry B. duPont Preservation Shipyard. This working shipyard that you can visit and see their current restoration projects and talk with shipwrights and other maritime craftspeople. The shipyard has restored or constructed some notable historic vessels such as the museum's own Charles W. Morgan whaler and Sabino steamboat, Plimoth Plantation museum's Mayflower II and, the replica schooner La Amistad. The original Amistad became renowned in July 1839 for a slave revolt and a subsequent Supreme Court trial that restored the slaves' freedom and became a symbol in the United States for the movement to abolish slavery. A gem that should not be missed at the Seaport is the Treworgy Planetarium. You can see the sun, moon, planets, stars, and constellations in various daily presentations that highlight and educate about the celestial sky; it is entertaining for the whole family.

Mystic Seaport Museum


75 Greenmanville Avenue


Mystic, Connecticut 06355



N 41º 21′ 36.871″ W 71º 57′ 51.628″