The Henry Ford and Greenfield Village is a unique museum complex with both indoor and outdoor exhibits in the Detroit suburb of Dearborn, Michigan.  It is the largest museum of its kind in the United States with close to 1.8 million visitors annually and a national historic landmark. There are five attractions that comprise the museum's offerings: Henry Ford Museum of American Innovation, Greenfield Village, The Ford Rouge Factory Tour, The Benson Ford Research Center, and The Henry Ford Giant Screen Experience. The main attractions are centered around the indoor Henry Ford Museum of American Innovation and the outdoor Greenfield Village.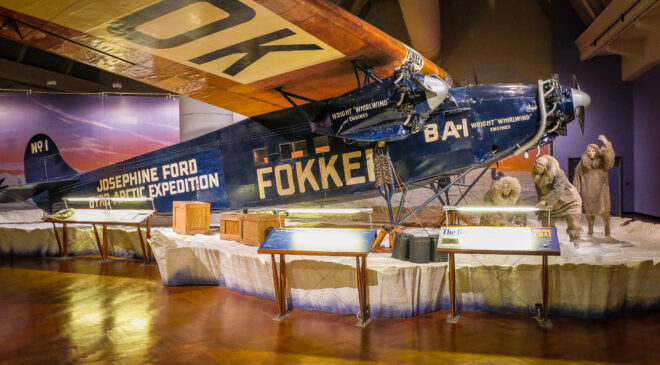 Both of these attractions offer unique experiences that allow visitors to explore American innovations both technological and social as well as a chance to visit America's traditions of ingenuity and resourcefulness through amazing historic structures, living history farms, historic rides, and seeing nationally-renowned artisans creating 19th and 20th-century styled pottery, tin, and glass.
Henry Ford Museum of American Innovation showcases many artifacts that highlight America's ideas and innovations. Visitors can explore one of the world's finest historic vehicle collections including an array of presidential limousines including the one in which John F. Kennedy was assassinated, the bus on which Rosa Parks took a stand for Civil Rights, the first production built Ford Mustang, and the ever-popular Oscar Mayer Wienermobile.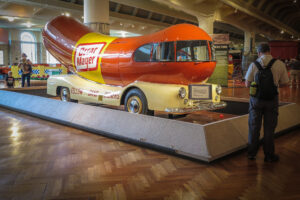 Visitors can browse the first 40 years of flight by viewing a 1903 Wright Flyer replica, the 1926 Fokker Trimotor airplane flown over the North Pole by Admiral Richard E. Byrd, and a 1939 Northwest Airlines Douglas DC-3 that hangs overhead in the main entrance foyer. This is just a small sampling of artifacts that also include full-sized steam engines and locomotives, tractors, trucks, household products and innovations of the past century, and prototypes like Buckminster Fuller's Dymaxion house. There are also many items of American historical significance and interest to visitors of all ages such as the camp bed George Washington used during the Revolutionary War, the rocking chair from Ford's Theatre in which President Abraham Lincoln was sitting when he was shot, and Thomas Edison's alleged last breath in a sealed tube. My favorite experience inside The Henry Ford Museum was to be able to get the "blue plate special" lunch inside Lamy's Diner. It is an authentic 40-seat diner built by the Worcester Lunch Car Company in 1946 and originally operated in the town of Marlborough, Massachusetts, my home state.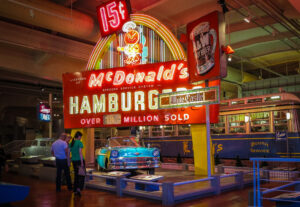 Lamy's Diner location in the museum is directly behind the neon glow of a 1960s McDonald's sign with a single "golden" arch and the Speedee mascot, which was the original shop sign used by McDonald's fast-food restaurant franchises. 
The Greenfield Village is an idyllic landscape of over eighty historic buildings, four living history farms, historic rides such as Ford Model Ts, and the Weiser Railroad that travels the perimeter of Greenfield Village providing train rides pulled by historic steam or diesel locomotives. Greenfield Village opening in 1933 was the first outdoor museum of its type in America. The Village setting is intended to show how Americans have lived and worked since the founding of America and encompassing approximately 240 acres.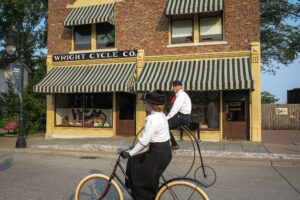 Historic buildings have been moved to Greenfield Village from their original locations and arranged to emulate a community setting.  Many of the buildings are staffed by costumed interpreters who provide a glimpse into the living style and tasks that may have been done during that period. In some of the buildings, there are hands-on experiences to allow visitors an opportunity to try tasks that I have been done in bygone eras.
There are many notable buildings and structures from America's past that would are interesting to explore such as the Wright Brother's bicycle shop and home, Thomas Edison's Menlo Park laboratory from New Jersey, a Cape Cod windmill, the Logan County, Illinois courthouse where Abraham Lincoln practiced law, and Henry Ford's birthplace furnished exactly as it was during his mother's time. There are so many historic and notable buildings of famous individuals from America's past there are too many to mention in this article but with each building, it brings the living and working of America's past to life.
In my visit to Greenfield Village, it was during the 4th of July celebration of Independence Day which provided some unique experiences such as a historic baseball game which transported the crowd back in time to when the game was known as "base ball" using uniforms, equipment and umpiring reminiscent of 1867, also I was able to enjoy the Salute to America concert presented for four nights around Independence Day by the Detroit Symphony Orchestra performing patriotic music on Walnut Grove in the Village complete with a firework finale.

The Henry Ford Museum and Greenfield Village


20900 Oakwood Boulevard


Dearborn, MI 48124‑5029



N 42º 18′ 12.9″ W 83º 14′ 2.68″