After stopping at the Chapel of the Transfiguration for a photo opp that you can check out here, I stopped by Menor's Ferry. Menor's Ferry is at the end of the road that the chapel is on and they share the same parking lot. At the back corner of the parking lot which is small, you'll find a path that leads to Menor's Ferry.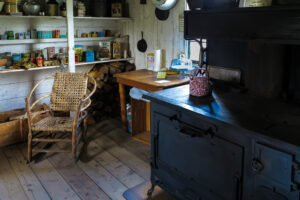 The path is very short, maybe hundred-fifty yards at most. Menor's Ferry is of historic significance to the Jackson Hole Valley and the Grand Teton National Park and is on National Register of Historic Places. Menor's Ferry is comprised of the Menor cabin and store, Maud Noble Cabin, transportation barn, a few outbuildings and, the ferry itself that would have crossed the Snake River. Visitors can enjoy a ride on a replica ferry that operates in the late summer months. I was able to join a small guided tour that talked about the history and function of the various buildings and the ferry.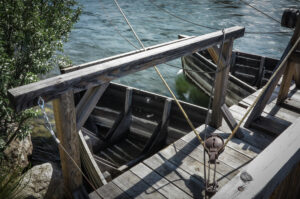 This small collection of buildings could easily be overlooked in the vast region of Jackson Hole and the Grand Teton National Park but it is worth a short visit to get some insights into the region and life before the National Park. Menor's Ferry once belonged to Bill Menor who came to Jackson Hole in 1894, taking up a homestead beside the Snake River. Here he constructed a "reaction ferry" designed ferryboat that became a vital crossing for the early settlers of Jackson Hole Valley. Along with the ferry, Bill Menor operated his General Store, smokehouse, blacksmith shop and, raised vegetables supplying produce to the local ranchers. The general store also served as Bill's cabin with a kitchen and bedroom.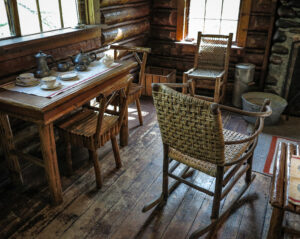 You can walk through the general store and cabin when it is open. It is open during the peak summer season and is operated by a storekeeper selling period goods. Nearby, down a short path is Maud Noble's Cabin. Maud Noble first visited Jackson Hole in 1915 and built her cabin the following year on Cottonwood Creek. She moved the cabin to Bill Menor's homestead in 1918 when she bought his ferry operation. The significance of the cabin is that it was the site of a meeting on July 23, 1923, where Yellowstone National Park superintendent and future National Park Service director Horace Albright met with local ranchers and businessmen, starting the process of creating Grand Teton National Park. There was no fee to visit Menors Ferry Historic District and take the tour but it appears to be only open during the peak summer season.

Menors Ferry Historic District


Menors Ferry Road


Moose, Wyoming 83012



N 43º 39′ 33.5″ W 110º 42′ 44.2″