Museum Quick Stop ~ The Evergreen Museum is located in McMinnville, Oregon about an hour southwest of Portland in a semi-rural area dotted with organic farms and craft breweries.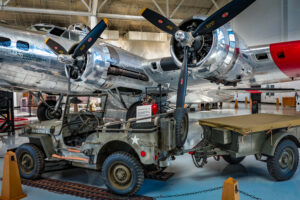 The Museum is comprised of two buildings dedicated to aviation and the other to space. The centerpiece of the aviation museum is the Hughes H-4 Hercules, popularly known as the Spruce Goose. The Spruce Goose was obtained by the Evergreen Aviation & Space Museum in 1993 and was transported from its original display in Long Beach, California. There are many military and civilian aircraft spanning the history of aviation arranged around the inside of the building, some located under the wings of the Spruce Goose or suspended from the ceiling. In the second exhibit hall dedicated to space, the highlights are a Titan II missile and a Lockheed SR-71 Blackbird a Mach 3+ reconnaissance aircraft.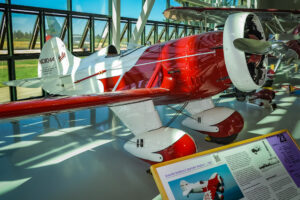 The Titan II sits upright in a silo display extending two stories below the floor. The exhibit includes a re-created missile control room furnished with furniture and equipment donated from Vandenberg Air Force Base. The museum is a nice day trip with just enough aircraft and space vehicles to whet an aviation enthusiast's appetite. There is also an IMAX movie theater with a variety of space and aviation related presentations and a couple of small cafes, one in each of the exhibit halls to get a snack or drink. If you want to make a full day of it with the family, adjacent to the museum is the Wings & Waves Waterpark. An indoor, all-season waterpark that includes ten waterslides for all ages of fun. You can even slide out of a real Boeing 747 aircraft sitting on the roof.


Evergreen Aviation & Space Museum


500 NE Captain Michael King Smith Way


McMinnville, Oregon 97128



N 45º 12′ 15.193″ W 123º 8′ 27.893″