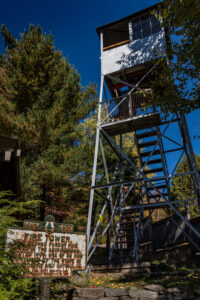 The Adirondack Experience is located in the hamlet of Blue Mountain Lake in New York state. It is a museum dedicated to preserving the history of the Adirondacks region. The museum is located on the site of a historic summer resort hotel, the Blue Mountain House, built high above Blue Mountain Lake in 1876, which operated until the late 1940s. The museum consists of 24 buildings, 121 acres, and 60,000 square feet of exhibition space. Adirondack Experience is open late-May to mid-October. The museum's collections include historic artifacts, photographs, indigenous arts, archival materials, and fine art documenting the region's past in twenty-four buildings including historic structures and contemporary galleries. The core exhibit called Life in the Adirondacks is the beginning point for most visitors to get a fully immersive, interactive exploration of the Adirondack Park and its people. The Adirondack Experience museum other exhibits include: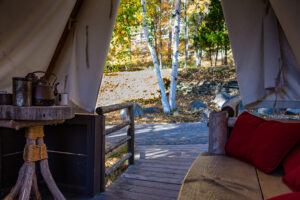 Call of the Wilderness – Meet a wide variety of individuals, past and present, who have been drawn to the Adirondacks including Teddy Roosevelt, Clarence Petty, Frank Owen, and Verplanck Colvin.
A Peopled Wilderness – Explore today's Mohawk and Abenaki cultures as well as that of the past. A recreated traditional campsite immerses visitors in the rich traditions and stories of the region's indigenous people.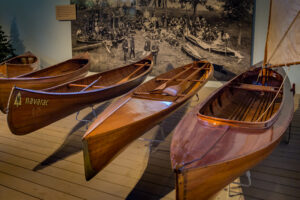 Roughing It – Find out the ways that people have lived in the Adirondacks, whether for a weekend or a lifetime. One of the iconic features of the Adirondacks is the "Great Camps", which were first built in the 19th century for the wealthy urban vacationers looking for a wilderness experience but with modern comforts.
Adirondack Tough: Working in the Wilderness – Encounter Adirondackers who work in the great outdoors and learn about the rewards and challenges they have faced, yesterday and today.
Our Adirondack Park – Explore the history of the Adirondack Park itself, featuring a giant walk-on map of the Adirondacks.
Text Credit: theadkx.org & Wikipedia

FMG Feature Gallery of the Adirondack Experience



Adirondack Experience


9097 State Route 30


Blue Mountain Lake, New York 12812



N 43° 52′ 10.5″ W 74° 25′ 57.6″